Attration Category
Wuhan Weather


84F ~ 100F
Cloudy To Sunny
SW at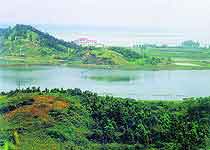 Liangzi Lake is a winding freshwater lake located in southeast Hubei province, in the southern bank of the middle reaches of Yangtze River. The lake is 304.3 square kilometers, with a drainage area of 3,265 square kilometers, an elevation of 20 meters, 31.7 km length and mean width of 9.6 km.
Liangzi Lake, one of the top 10 lakes of the country, is the second largest fresh water lake in Hubei province and home to Wuchang breams and popular big river mitten crabs.
Within a 50 kilometer radius of the lake are four cities of different sizes: Wuhan, Huangshi, Ezhou and Xianning. Liangzi Lake is the natural "emerald" center for the surrounding cities.
Jiangxia district owns 65 percent of Liangzi Lake, the largest aquatic product cultivation base of the province.
Liangzi Lake is famous for the quality of its water, which has been declared the acme of perfection.

The lake has four characteristics:
First, it is "clean". The water is very clean and pure. Bright sunshine and gentle breeze bring out the clearness of the water. It appears green with the reflection of the sky and the sunshine makes glistening waves.
Second, it is "beautiful." There is harmony as the lake and mountain connect, water and sky join, green waves and white sailing boats mingle. As the saying goes, "water, mountain, lots of boats, and carefree seagulls make a grandiose scene".
Third, the lake is "spacious". The area covers 300 square kilometers during drought and can reach up to 700 to 800 square kilometers in its flood season.
Fourth, it is "marvelous". There is an island in the lake, a lake on the island, and another island in the middle of the lake, all of which vary in gradation.