Attration Category
Wuhan Weather


84F ~ 100F
Cloudy To Sunny
SW at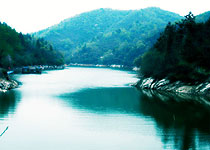 The Mulan Heaven Lake is located west of Shimen Mountain and Mulan eco-tourism area of Changxuanlin town in Huangpo area, Wuhan. District Magistrate Huang Bei the porch range town Shimenshan, west of the Lily magnolia, east adjoining with the Mulan Mountain and Mulan Lake, and is 61 kilometers from Wuhan city center. It takes only one hour to Wuhan by bus. The transportation is extremely convenient.
The Mulan Heaven Lake is made up of the waterfall, the brook deep pool, strange stone, and wonderful wood and other natural landscape reaching 200 places where tourists may access 40 places. In the natural landscape, the most famous are in the Heaven Lake; "upper eight pools", "below three pools", the big waterfall, the bleeds brook and so on. The sight here has resemblance with Jiuzhaigou, Lu Mountain. The leading line that was already developed was the Grand Canyon tour line, from the small Heaven Lake to the big Heaven Lake. It is more than 200 meters and the tour lines are ten Chinese miles long. It was divided into four scenery sections altogether: small Heaven Lake section, wild horse ditch section, the Taoist Chongjing section and the big Heaven Lake scenery section. The line includes the strange stone, the brook deep pool, the waterfall, and the wonderful wood and some 40 landscapes.
The biggest landscape is the big Heaven Lake namely the Zhujiashan reservoir. This reservoir was completed in 1978; the tourists could have sightseeing along the stone steps upon entering the scenic area from the entrance at the foot of the hill. Accompanying by the summit reservoir, the scenery is enchanting. The natives provide parasol and chair for tourists to rest where they can admire the scenery while drinking tea, or renting boat to sail in the lake.

Address: 61km North of Wuhan
Admission:CNY40
Hours: 06:30 am-05:30 pm