Attration Category
Tianjin Weather


25F ~ 37F
Sunny
NW at 20km/h To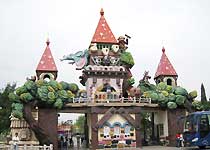 The Tianjin Zoo is located in Nankai District, Tianjin, China, as the south-most part of the Water Park complex. It covers an area of 53.77 hectares (132.9 acres), which includes about 10.68 hectares (26.4 acres) of lakes. Construction began in 1975 and it was opened to the public on January 1st, 1980. It houses approximately 3,000 animals of 200 species.
The zoo is divided into separate habitats for: monkeys/apes, bears, lions, pandas, songbirds, elephants, hippos/rhinos and amphibians.
Inside the park, trees and grass are verdant, the water and sky merges in one color and the scenery is charming and gentle. You are free to appreciate the exhibition area, walk in the woods, boat on the water, fish by the lake, taste delicious snacks and participate recreation games and activities. There is also an open-style herbivore area where people and animals got along with harmoniously, naturally and closely.

Tianjin zoo incorporates animal exhibition with animal medical treatment, animal scientific research, precious and rare animal breeding and wildlife protection, gathered the functions of animal appreciation, scientific popularization and propaganda, cultural recreation as well as dining service. It has also set up long-term cooperative relations with the national zoos or foundations from brilliant pearl in Tianjin.

Being one of the "Ten Scenery Sports" of Tianjin city, it is famous far and near. Tourists are attracted to Tianjin zoo by its reputation asva scenic spot, the annual number of Chinese and foreign tourists reaches more than 2 million person-time. Tianjin Zoo sincerely hopes friends from all circles to contribute their love for the development of the undertaking of wildlife protection, and to corporate closely.

Admission fee: RMB 20/person

Opening hours: 08:30~17:00

Transportation
The east gate of the zoo can be reached by taking the bus No. 879, 668, 8, 901 and 685, while the west gate can be reached by taking the bus No. 52, 901, 904 and 685.