Attration Category
Tianjin Weather


72F ~ 90F
Cloudy
E at 30km/h To 20km/h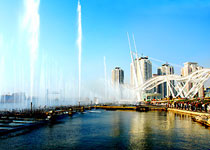 Haihe Bund Park is located in the Tanggu District, or the new area of Tianjin Binhai. Laid out by world-class designers, it features a modern city landscape and entertainment area. Adjacent to the pedestrian street of Jiefang Road to the north and facing to Haihe River to the south, the park is a great place of recreation.
Walk along the east bank to the Bei'an Bridge, you will get to the Youth Garden, full of vernal freshness. What comes to your eyes first will be a huge silvery gray electronic quartz clock enlightening the youth cherishing the 'golden times'. In the flowers stand four beautiful young women encouraging each other to pursuit good future with their eyes arm in arm. There is a granite stone stele carved with three big Chinese characters 'qing nian yuan' (youth garden) standing in the very center of the garden.
Exiting the Autumn Garden, going to the opposite bank of the Haihe River and turning back, you are at the Plant-shaping Garden presenting you a unique gardening style. Based on the gardening of the western countries, the designers center on regular distribution and design various flowers pond every 70 - 80 meters (77 - 87 yards). Meanwhile, the sculptures sculpted on all kinds of plants are also gorgeous, including swans, snow bears, flying fishes and dolphins.

Entrance Fee: Free
Transportation:
A. Take Bus No. 820, 834, 844 and get off at Haihe Park;
B. Take Bus No. 621 at Tianjin Railway Station and get off at Haihe Park (CNY 6 per person);
C. Take the light rail at Zhongshanmen and get off at Tanggu station, and take Bus No. 936 or 501 and get off at Haihe Park.