Attration Category
Tianjin Weather


25F ~ 37F
Sunny
NW at 20km/h To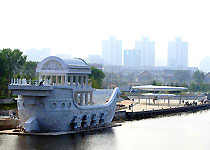 Er'zha Park is located in the junction of Xinkai River and Ziya River in Hebei District Tianjin. It is one of the important landscape in the upstream of the rivers. The whole park is planting trees, corollas, so it becomes the "green lung" of the city for citizen to relax.
Er'zha Park is consisted of the new and old brakes. Old ear brake hub project was founded in 1919, was the first seat of Tianjin water conservancy project. The new brake is finished build, but the old brake isn't removed that set apart as old building. There is also a marble boat imitated Ming Dynasty. It is 50m long, 20m high and 16m wide. It is bigger than marble boat of Beijing the Summer Palace.
In addition, the site of the first textile enterprise - Hengyuan Scale Wool Mills is beside the Er'Zha Park. So the park not only beautifu, but displays old water conservancy items, old industrial equipment and so on. At the same time, the park also builds wharf and open-air cafe and so on. That makes the citizens have a rest, drink coffee and view the cultural relic.