Attration Category
Taiyuan Weather


14F ~ 34F
Cloudy To Sunny
SW at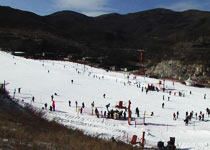 Located in Taiyuan City Old Jinci Road, Section 3 609. Shan scenic area, with Jinci scenic spots and scenic areas together constitute Tianlong mesmerizing quality tourist routes.
Snow ski area of 28,000 square meters, and another 1,000 square meters of comprehensive services and facilities, the resort in strict accordance with international standards and physical characteristics of the design of Chinese initial, intermediate and advanced slopes hillside, with a total length of more than 500 meters. The beginning, intermediate and above level skiers able to ski action to demonstrateFor it is the ideal ski skiers. Same time to meet different tourists to the tourism product diversification needs. Also equipped with security exciting snowmobile, snow bikes and snow ages snow play area UFO.

Site Features: 500 meters with a long ski, ski slope at lower divided into three sections high.
Traffic
is the most from the TaiyuanNear a major tourist ski resort, self-driving in only 15 minutes. Or take 848 or 308 bus and get off at the school of horticulture, then walk for 10 minutes.
Tickets
Tickets: Monday to Friday 88 / 98 per person weekends / person.
Opening hours: 9:00 am - 6:00 pm.