Attration Category
Suzhou Weather


72F ~ 81F
Overcast To Sunny
N at 20km/h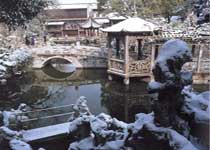 Lion Grove Garden (Shizilin) is located on 23 Yuanlin Road, in the northeast of Suzhou-a city with profound cultural background and convenient developmental advantages. Lion Grove Garden is one of the four most famous and representative gardens of ancient classical style in Suzhou City. The other three are Blue Wave Pavilion (Canglangta), Lingering Garden (Liuyuan) and Humble Administrator's Garden (Zhuozhengyuan).
Built in 1342 during the Yuan Dynasty (1279-1368) by Monk Tianru and a group of Zen Buddhist disciples as a memorial of their master-Monk Zhongfeng, Lion Grove Garden has changed hands and renamed a number of times. Its changeable history is because Monk Zhongfeng had once apperceived the Buddhism sutras at Lion Cliff on Mountain Xitianmu in Zhejiang Province. Also there was many rocks grotesque in shapes in the garden resembling lions. It was first given the name Lion Grove, this name was changed to Bodhi Orthodox Temple (Puti Zhengzong) in 1342. The garden had been a popular center of literati's and Buddhism activities. Many paintings and poems were inspired by the garden at this time.
After Monk Tianru's death and the disbandment of the disciples, Lion Grove Garden grew more dilapidated day by day. In 1589 of the Ming Dynasty (1368-1644), Monk Mingxing asked for donatives to rebuild the garden and temple, which were separated during the reign of Emperor Kangxi in the Qing Dynasty (1644-1911). Huang Xingzu, the governor of Hengzhou, bought the garden and renamed it She Garden. His son, Huang Xi repaired and decorated the garden and gave it a new name - Five-Pine Garden in 1771. Good times don't last long - Lion Grove Garden was again left to ruin due to the Huangs'downfall and purchased by Bei family in 1917. After the 1949, the garden entered a steady and well-protected period.
Covering an area of about 10,000 square meters (two and a half acres), Lion Grove Garden is an ideal sightseeing site as it has richly ornamental pavilions and towers in different styles; each has its own history and story. True Delight Pavilion (Zhenquting) is said to be the most magnificent in the garden due to its royal style and Emperor Qianlong of the Qing Dynasty, who visited the gardens six times, in 1765, wrote its plaque. The name of Standing-in-Snow Hall (Lixuetang) came from a Buddhist story about a pure-hearted Zen adherent standing in snow for a whole night to worship his master. Pavilion for Greeting the Plum Blossoms (Wenmeige) was a place where painters and poets indited. In addition to the plum treesaround the pavilion, all the furnitures and utensils inside are decorated or carved with beautiful plum blossom designs. Furthermore, many rare tablets and steles, paintings and calligraphies are kept in Lion Grove Garden , including precious artwork 'Panoramic View of' by Ni Yunlin, also called Ni Zan, and the 'Twelve Scenic Spots in Lion Grove Garden' by Xu Ben, both were famous painters from the Ming Dynasty.
However, as the representative garden of the Yuan Dynasty, the most noted and attractive scenery of Lion Grove Garden is the labyrinthine rockery, which was mostly made of the limestone from Taihu Lake in Wuxi City. Reputed as the 'Kingdom of Rockery', the rocks were piled up skillfully and ingeniously, and most of them look like lions in different postures and verves: playing, roaring, fighting, sleeping, or even dancing. It is said that looking north from Small Square Hall (Xiaofangting), one can see nine stone lions standing in a row and that is the Nine-Lion Peak. Due to the changes and ravages of the time and climate, the peak now only bears little resemblance to the lines. There are altogether 9 paths and 21 caverns cross among the steep peaks, sharp crags and narrow valleys made up by countless grotesque rocks. Walking through those numerous winding pathways and caverns of the anfractuous stone forest, one could easily lose one's way. With the old pines and cypress trees, the whole landscapes represent scenes of real mountains and forests.
The whole structure of Lion Grove Garden shows a flavor of Zen Buddhism and is an apotheosis of the gardens' constructions. A part of the Imperial Summer Resort of the Qing Dynasty in Chengde of Hebei Province was a mimic of Lion Grove Garden. The garden occupies a very important place in history, representing the diversity of cultural and architectural development in Suzhou over the years.