Attration Category
Suzhou Weather


66F ~ 75F
Cloudy To Sunny
NE at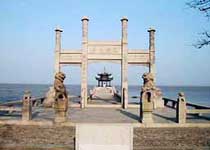 Introduction
Mudu lies in the west of Suzhou, by the side of Taihu Lake, is a famous historical and cultural town. The scenery is beautiful and the products are plentiful, has the name of a treasure bowl because it is surrounded by famous hills, including Taiping Mountain, Lingyan Mountain, Lion Mountain and so o­n.
The four seasons of Mudu is suitable for traveling, the spring and autumn is the best traveling time. You can also go to Taiping Mountain to see the red maple leaves after you finished the sight-seeing of Mudu.
Highlights
Mudu is famed as a town of gardens with numerous Ming-and Qing-dynasty gardens. Owing to its geographical position, with the nearby Taihu Lake and the Grand Canal, a mild climate and fertile soil, Mudu is "land of fish and rice." It has more than thirty private gardens and Yanjia Garden, Old Pine Park, Hongrin Mountain House and so o­n were mended. It provides a good leisure place for the city people because its profound cultural meanings, elegant environment and many historic legends. Yanjia Garden is the old residence of Shen Deqian, the teacher of Qianlong, the oldest Chinese poet. Then it belonged to the richest man: Yan Guoxin. The layout of the garden is complicated and proper, and the partial layout is delicate and elegant, which shows the gardening of the makers of it.