Attration Category
Shaoxing Weather


39F ~ 46F
Light Rain To Cloudy
N at 30km/h To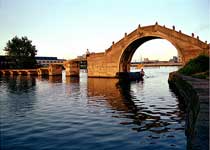 Jianhu island is elegant. The bridge between the different islands connected with, or "mirror of water", or "moon", or "Jin Department", the bridge and more all over the place, although many bridges, it can be accessible and fun.
This is a mirror of water Bridge pontoon one of the most famous ancient Shaoxing, in the "Jiaqing Hueiji records," where there are well documented.
Song Jin, Department of the bridge is said to eighteen years of Shaoxing (AD 1148), the student Zuo high school champion. Official on the eve of his going abroad, a group of scholars with his line on the mirror, put on clothes mirror, sent him a Keyan.
Painting the bridge, also known as Fishing Bridge. In SouthSong had previously, before the hometown of Lu Hermitage, often paddled small Huachuan to fish here. The poet said: "A Bay Bridge painting a forest of thin, cross-strait red calyx with mushroom Po."
Yangtze River Delta thousands of years this stage, the stage sat the east, on both sides by water, facing Jian Lake. Here the social reproduction of the Lu Xun play style, Water acting scene.
Located 1.5 km west of Shaoxing, Shaoxing rice wine is to use the world-famous Jianhu out of the water brewing. Lu Jian Lake edge of seclusion in his later years, watching the picturesque scenery, no wonder the feelings of his life maintained a poem sword.
History: Han Yong years, too HueijiMa Zhen keep the total sodium Sanin, Kuaiji counties thirty-six source of water for the lake, east Cao';e River, west Puyang, long 127 years, an area of about 206 square kilometers, more than 9,000 hectares of irrigated farmland, a large population counties -win.
After the Tang dynasty, the lake gradually silting. Located on the lake with the bridge embankment, see when fishing boat, mountains all around, clear as a mirror, called a typical south of Yangtze River.
Wang, "Hill vagina up, such as the middle in a mirror", again revealing no virtual. Dao: "If you spend Qiantang Yan, Qian Sanin like grass. Six or more people, do not smell good the West Lake." Is not an exaggeration. Zhi-Zhang, Lu love this "strange and beautiful hills,"The remaining years of this town.
Traffic
3,7 Road train station get off to a side door, walk to.
Tickets
85 Yuan Jian Hu Ke Yan +; Ke Lu town rock + Jianhu + 100.