Attration Category
Shanghai Weather


46F ~ 66F
Cloudy To Overcast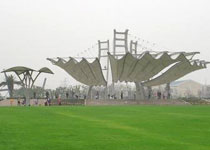 Being the largest integrated park in the southwest part of Shanghai, Minhang Sports Park is an important section of the greenery surrounding the city.

The construction began in the end of 2001 and 0.57 billion yuan has been invested. Located on the west of Huanxi Road, north of Gudai Road, east of Xinzhen Road, south of Nongnan Road, the park has been open to the public since January of 2004 and covers an area of 207.9 acres.

The park includes a stadium, youth club, swimming pool , scenic tennis courts, and different kinds of sports equipment.
Address:No.1205 Xinzhen Road Minhang District Shanghai

Traffic:
1. Take the Xumin Line or Line 1 to Xinzhuang Station, then transfer to Bus 763 to Sports Park;
2. Take the Xumin Line to Shuiqing Road, then transfer to Bus 753 to Sports Park.
Tickets:Free