Attration Category
Qingdao Weather


23F ~ 34F
Cloudy To Sunny
N at 40km/h To 30km/h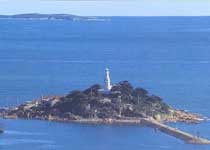 Qingdao is located southeast of the small bridge, small, such as snails, beautiful scenery, along with the return Lan House, as the Qingdao Bay, two bright pearl, dazzling. Qingdao really lovely little small area of only 0.012 square kilometers, 17 meters above sea level, because of its shape as a guqin, it has "Aegean Islands," said. 720 meters from the east coast of the island, has long seawall and land phase.
During the day, the visitors back to lean on a railing overlooking the Lan Club, the Majestic was the young Qingdao rock, tree Weng Yu, red reef Ariel, White Pagoda trees, such as a beautiful picture. Island film is hazy night, when the tower beacon lights out when the dark, and around the colorful neon night weaving a magnificent world. Visitors walk in the Chinese lamp, bathed in the sea breeze, watch the island the night, all intoxicated.
Traffic
City can take 6 Road, 26 Road, 304 Road, 311 Road, 312, 316 to the bus.
old; "> tickets
15 yuan
7:30-17:30 (summer hours may be deferred until 19:30)