Attration Category
Jiujiang Weather


72F ~ 88F
Cloudy
S at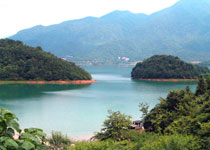 Yongxiu County in Jiangxi Province and the Wuning County, with a total area of 308 square kilometers. Yongxiu County Lakes area of 72 square kilometers, there are 331 islands, is a sight-seeing, and leisure in one of the lake at the provincial level key scenic spots.
Lake Reservoir Dam Zhelin magnificent weir, is Asia';s largest earth dam, 14 square kilometers near the dam boundless expanse of blue water and the open lake. Asia';s largest earth dam due to the Xiu River cut down the middle, and the formation of the current largest artificial lake in Jiangxi Province, more like gods created this beautiful scenery. Lake varied landscape, the cliffs rise steeply with Chihiro, a village near the lake Block, Lake magnanimous Tianchou, direct discharge into the lake, waterfalls, 60 cubic meters of water sunrise river of easy home spa. Cultural landscape are the tomb of the Ming Dynasty Bingbushangshu Wei Yuan, Emperor Qianlong travel south stone carving and so on.
There is also efficacious scenic magic fairy tree; like nectar of the Di Shuidong Yuye spring; vivid stone human crane dance; prolonged, the ups and downs, crystal clear Taohuaxi; foam flying, massive, full of daring Huang Jing Ma fountain waterfall; turning small streams, fresh, easy home River Hot Springs; veterans of the Millennium evergreen Podocarpus; tall green yew; towering, mysterious MoPeach measured tip ... ... the rich natural landscape, so dizzying.
Zhelin this beautiful and mysterious lake of local natural resources, colorful, unique, called "a rare treasure." Vast lake here, boundless expanse of blue, 308 square kilometers of the lake, deep and pure water, average water depth of 45 meters, visibility more than 9 meters, is a national level body of water; the lake off the Kuril beads, patchwork, more than 5 acres of the island 997 sites, and the Island Island lush vegetation, Cuise For flow, together with those who disappeared the various shapes of unknown island, the mountainous peaks around the lake, ancient trees, verdant everywhere.
Beside the lake there are fishing areas Zhelin be camping.
Traffic
For self-drive, direct access to fishing place.