Attration Category
Jiujiang Weather


72F ~ 88F
Cloudy
S at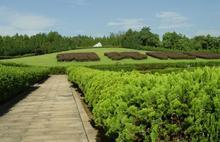 North Castle Peak Scenic Area is located in the northern part of Jiangxi Province, located in Ruichang City Central. Scenic area of about 123 km2, the territory is Mufu Mountain Mountains, the highest peak Yufeng sharp elevation of 921.3 meters above sea level, and other terrain dominated by low mountains. Lushan';s sister called Castle Hill.
Castle Peak from "Qinshan" evolved, according to legend Emperor Ping of the six countries, when Deng';s southern tour of this mountain, named for the letters to Emperor "Qinshan." When Su Shi wrote the Castle tour, "Wu and plug the peak gut song by-pass. Banbi beautiful collection, water does not Qianlong" praiseSentence.
Castle Peak Scenic Area by the Forest Park, water park, karst caves of three parts.
Forest Park

Aoyama original vegetation well known yew tree, Ginkgo biloba, and Po Pteroceltis zenii. Many old trees, including Castanopsis trees Egeria 3000, 400 years berberine tree, 630 Ash, and 100 years of maple.
WildAnimal resources are very rich, leopard, jackals, deer, deer, fox, rabbit, Kam pheasant, pheasant, pangolin, wild boar and a variety of snakes and birds. Also developed in recent years, the planting, there are fragrant, kiwi, mushrooms, chestnuts, bamboo shoots, mountain against seasonal vegetables.
Board Yufeng tip, showing a large peak in the peak, small peaks, like riding a cloud driving fog, overlooking the little sail the Yangtze River, Jiujiang mirage King House, Mount Lushan vast clouds. Ring drum pier, sports ridge, windmills mouth, with the ancient peasant army knife Stream battlefield; flight offerings Tsui, candles peak, peach tip, ships boats, millionQi husband Cliff and other insurance landscape, beautiful; Qiligang otherwise some funny, steep valley walls narrow the port, the upstream smooth and swift rivers, the water flow in Hong Kong without a trace, hence the name "diamond sand."
Water Park
Castle Forest Park, Nanshan, there are acres of medium-sized reservoirs, blue waves. Stone shoots a bank is really picturesque village smoke Ran seven names from the ridge, Greenfield clear water to form mountains, water, the village lost one, was built for visitors to resorts and fishing, boating, swimming, regattas and other water Recreation excellent place.
Limestone Caves

Cave under the Castle Peak Scenic Area resources are very rich in China, by experts as the first South, 500 meters away from the water park poke holes with Chung four holes, a total length of over 10,000 meters, the natural formation of karst caves.