Attration Category
Hefei Weather


72F ~ 95F
Cloudy To Sunny
SW at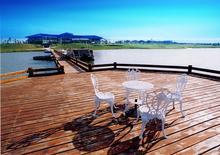 The element of an international golf club as the center of Sheung Fung Lake Resort, located in the Changfeng County double Dunzhen territory. Hong Kong dollars a wholly-owned institutions, covers an area of 2000 mu.
Sheung Fung Lake Resort area green grass, blue waves, vegetation rich. Anhui element of an international golf course is located in the south of Lake Sheung Fung, numerous golf course within the water distribution, water and sky matched, unique.
18 hole par 72 golf course of international standard course, but also high standards of Anhui is the only golf course. The total length of 7,225 yards the fairway. Arranged in the clubhouseSheung Fung hills south shore of the north overlooking the sparkling, looked to the southeast, a panoramic view of golf course. Hall look elegant fashion, Chinese and Western restaurants, bar, room, five-star hotel resort villas, sauna health center, business center, golf shop, water boats and other facilities.
Local Tourist Information:
There is a hall leading from the main highway west of the internal roads, as the stadium';s main entrance channel.
Arena real grass driving range is located in the west hall, the length of 330 meters or so, set 3,4,5 fairway shot field exercises. In the west hall is a largeGrass skating, north of the city and mini golf is fun. Entertainment the city has a tennis center, food center, chess room, karaoke room ok, nightclubs, gaming center, table tennis room, basketball room, badminton courts, bowling alleys, billiard rooms and other recreational facilities.
Mini golf in the north is a large tourist garden, together with the many varieties of plants, all year round, flowers, hustle and bustle of the city so as to provide a relaxing haven.
To go further north is a large eco-agriculture demonstration garden. Park visitors can feel the progress of modern agriculture, the magic of science and technology, But also learn a lot of agricultural knowledge.
Agricultural demonstration park east marina, where visitors can rent small boat, the bottom can be seen in the clear lake Shuangfeng enjoy the city to the heart caused by the release of repression.
Traffic
Ring road from the city by double-wind Avenue, travel about half an hour, which amounts to.