Attration Category
Hangzhou Weather


73F ~ 86F
Cloudy
N at 20km/h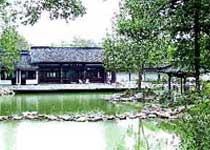 As one of the three famous spring in west lake , Yuquan sightseeing attractions was a good place to have some tea. In 1964, Yuquan classical garden at the site on the artistic techniques used to rebuild.
After the new Yuquan, Through the door ,there is a large window frame , after the window , the patio have a lake-stone , a few bamboo poles, formed a natural Bamboo and write intent.
There are several garden courtyard with corridors, white wall apart, wall grilles cited, several courtyards separated but not absolute, giving a deep feeling to the garden.
Then the Yuquan pool here has been modified, called "fish happy country". North and South have a small patio to configure pine, bamboo, plum ,scenery . West is ancient pearl spring .
Located in the Hangzhou Botanical Garden Yuemiao the West. Yuquan was 12 meters long and 9 meters wide, no spring, spring water seeping from the bottom, have hundreds fish , fish length of several feet, heavy dozens of jin . Poolside Gallery, a swallow nests under the eaves . In spring, there will be a beautiful scenery.
Traffic
By bus No.7,15,27,28 ,travel up to 1,2,3, road
Tickets
10 yuan