Attration Category
Hangzhou Weather


46F ~ 72F
Sunny To Overcast
N at 30km/h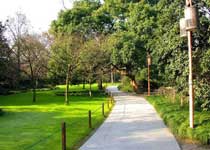 Covering an area of about 230 hectares (approx. 568 acres), the Hangzhou Botanical Garden can be found at the foot of Jade Spring Hill in the northwest end of West Lake. It was originally built in 1965, and is not only a park in which to feast your eyes on beautiful plants, but also a research base where fields such as the cultivation of plants and protection of environment are studied.
The garden has wonderful scenery and an excellent environment. It is beautiful, with decorative architecture including pavilions and kiosks. Verdant trees, colorful and lovely flowers, and extremely fresh air seem to bring people into a world full of the pleasure of natural beauty.
The garden is divided into two main sections: the research section and the pleasure gardens. The research section is where the cultivation of plants and protection of the environment are being studied. The pleasure gardens are divided into gardens including the Botany Classification Garden, Botany Appreciation Garden, Bamboo Garden, Garden of Economic Plants, Plant Resources Museum, and the Medicinal Garden. In the Botany Appreciation Garden, the 'Lingfeng Tanmei' in the Botanical Garden is an excellent scene that really catches tourists' eyes: Over 5,000 plum trees are standing upright. When winter comes, the majestic and charming picture of plum trees stretching up, towards the cold wind and snowflakes falling onto plum blossoms is an amazing sight.
Each garden has unique features. The Bamboo Garden is special and interesting: A kind of bamboo named Damaozhu grows very fast - reaching 1 meter (approx. 3 feet) in height during one night and growing as tall as a three-stories building during one month. Some bamboos are small like grass, and some have spots on stems. In the Garden of Economic Plants, plants are visible which can be used to produce fiber, medicine, flavors, or special kinds of industrial materials. They provide tourists not only with the wonderful scenery of flourishing trees but also an ideal place for summering.
Some entertainment facilities in the botanic garden offer tourists a chance to relax to their hearts content. No matter what season it is, the garden will give tourists endless pleasure. The beautiful Yulan trees in spring, the leisure hours spent viewing the lotus or on the hammock forest in summer, the fragrance of sweet-scented-osmanthus in autumn, the pines and bamboos which are still green and vigorous in winter add great pleasure to any visit here.