Attration Category
Haikou Weather


61F ~ 66F
Cloudy
NE at 20km/h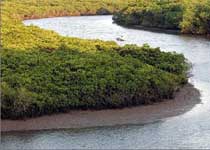 Bay tidal waters Dongzhaigang wide area of 5,400 square kilometers. The main protection targets the area of mangroves and water birds. There are also fish, such as eel, grouper, snapper fish, sea bass; and large amphibians.
Mangroves -
Mangrove is the largest area of the country into pieces, the full range, the best preserved. There are 16 families, 32 species of mangrove plants. Which waterCoconut, red racemosa, Sonneratia Hainan, Sonneratia leaf eggs, to be Sonneratia, neem fruit trees are the mangrove, halogen fern leaf tip are rare plants. There are some species endemic to Hainan Hainan Sonneratia and halogen fern leaf tip.
Distribution of the forest by ten different species in three different communities, varied and beautiful scenery. High tide hours, dense mangrove forests will be submerged tide, revealing only green canopy with wave ripples, as the spectacular "sea of forest."

Waterbirds -

Mangrove Tips
Mangroves are tropical evergreen coastal mudflats on the unique plant community, because most of its mangrove species belong to families, it will be referred to as mangrove ecology.
Red tree has a specific "viviparous" propagation phenomenon, the fruit of the seed within the mother trees grown seedlings after germination, together with the fruits fall from the tree, into the mud flats as long as 2 to 3 hours, can grow into new plants, if falls on the seaWhere the drift, dead for months, every mud will take root.
Natural distribution of mangroves in China in Hainan, Guangxi, Guangdong, Fujian and Taiwan provinces, is an important tropical coastal environment, to wave bank protection, fish and shrimp breeding habitat is the ideal place. Deforestation since the 1960s, land reclamation, deforestation, pond aquaculture, deforestation of the reclamation and other irrational urban construction project development activities, so that the sharp decline in mangrove area, environmental degradation, endangered wetland resources. Mangrove Nature Reserve has been completed at all levels 18.
Mangrove Nature ReserveConservation Area and played across Fengzhen Haikou Meilan District, Sanjiang Farm, three Town, Wenchang City, the Law and the junction of bean farm, 84 km coastline, is the first Mangrove Nature Reserve.
Mangrove forests and other places is different is that Dongzhaigang high tide hours, dense mangrove forests will be submerged tide, revealing only green canopy with wave ripples, as the spectacular "sea of forest." In addition, there is "bird paradise" and "natural farms."
Recommend trying the blood clam, oyster, shrimp, blue crab, eel blood, five seafood, the taste is very good. Can eat seafood restaurant area, the price is notIs very expensive.
Traffic
Qiongshan City, Hainan Province, located in Fengzhen Dongzhaigang speech. About 30 kilometers from the city center, from the Haikou Meilan International Airport 12 km.
Bus: Take in the sea to play five Ancestral abundance of the bus, the fares by 5 million, to play and then take the tricycle to Dongzhaigang Feng, 2 yuan fare.
By car: Kwok Hing Road - Haven high-speed speech Feng intersection - play Feng - mangroves. Usually starting around 8 am, return around 17:00 pm.
10.