Attration Category
Haikou Weather


81F ~ 95F
Thundershowers To Cloudy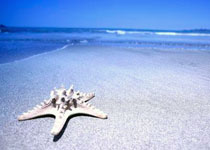 Holiday beach from east to west into the sea sports area, seafood dining and cultural district, the beach at bathing area, the four major functional areas and leisure areas.
Largest entry in the beach area is located on the central beach bathing area. Can be seen near the entrance to encircle more than a dozen antique huge banyan tree, eye-catching.
Bath area at 6 km crescent beach, clear water, cool sea breeze. Besides recreational facilities, building design novelty, and the sea into one muddy.
Japanese bath beach resort west side is the location, can accommodate 4,000 people a large self-service barbecue garden, vacation homes, particularlyWood and bamboo structure resort, every account every, simple and coastal hammocks and other accommodation facilities, recreational beach during the day and comfortable overnight accommodation for people the environment and equipment.
East by the water performance hall, a leisure park, sea club composed of three parts, covering 80 acres of "water world", its architectural school of the Roman style, can accommodate more than one thousand eight hundred spectators, the annual invite domestic and foreign performing water ballet star, high-altitude diving, land style dance, to visit the Holiday Beach add more elegance.
Another hot spring swimming pool, the Library has the standard hot springs swimming pool, children';s leisure pool, spa pool vesicles,Gym, foot massage, tea, and other entertainment facilities. Spring water collected from depths of 750 meters underground hot springs, the maximum temperature of 44 , pure spring water, suitable temperature, clear glycol, can be drinking and bathing.
Reference price entertainment
Motorboat (100 yuan / 10 minutes)
Boats (200 yuan / 10 minutes, can take 5)
Parasailing (100 yuan / time).
Holiday Beach in Haikou Haikou City, the coastal road north of the West Extension Line Qingling Avenue, east from the West show the beach, five West River source, about 6.2 km from the seaPort city center 11 km.
Long stretches of beach are endless Qiongzhou Strait, often come and go sailing. Large-scale open-air seafood barbecue plaza crowded night. Noble Yacht Club and the nearby luxury hotels. Along a beach holiday, there are wide and clean the coastal road, where the hair was very comfortable walking. In addition, the night you can see the beach east of the theater "impression of Hainan Island," the live performance.
Seafood restaurants in the size of dining area has a supply of food booths, including barbecue oven at 50 yuan for each rental. Leisure Resort has a new holiday villas, holiday special wood and bamboo structures Center, every account every, simple and coastal hammocks and other accommodation facilities.
Traffic
1, the multiplicative "Xing Long" Tour Bus and the "total speed of" bus tour arrived in 1,2, via White Dragon Road, Sea Rd, Binhai Avenue. 1-3 per fare.
2, can take the bus 28 Road, 40 Road to destination, the fare 1-3 million.
3, the city center to about 20-25 per hit.
bold; "> tickets
Free
Car into the parking fees charged 10 yuan.