Attration Category
Haikou Weather


63F ~ 70F
Cloudy
NE at 20km/h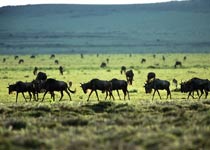 Park is located in Haikou City, Hainan Province, Dongshan District Xiuying. About 27 kilometers away from Haikou city center. For Tropical Wildlife Expo, the theme of science.
Main dealers beast with park area, viewing area on foot, lake resort, the central service area, including animal viewing area of about 2,000 acres, bringing together the world';s 200 kinds of wild animals around, the number reached more than 4,000 head ( only).
Main ornamental landscape: Tropical Botanical Garden, rubber Cultural Park, Hainan native animals Pavilion, Lion Park, the largest in Asia, Asia';s largest monkey park, Asia';s largest Bainiao. In addition, the park has a birds performing arts venues, performing arts venues monkey, animals kindergarten, small animal world.

Animal and plant distribution guidelines
Beast area car dealers -
There are giraffes,African lions, Asian elephants, black bears, camels, tigers, deer, dwarf horses, ostrich, deer and other extravagant.
Pedestrian viewing area -
There are Liger animals, monkeys, hippos, crocodiles, gorillas, snakes, red pandas, baboons, monkey and so on.
Bainiao -
There are birds, peacocks, I am similar cranes, black swans, red-crowned crane, white pheasant, white swan, mandarin duckMandarin duck, egrets.
Tropical Botanical Garden -
There are rare and endangered plants, such as Alsophila; tropical rare plants, such as Dracaena; tropical flowers, birds such as gold, Bougainvillea, etc.; tropical fruit trees such as mango, litchi, etc.; palm plants, such as triangular palm, bottle palm, etc. . Also in the rubber Culture Park, also learn the cultural development of Hainan';s history of rubber, watch tapping technology.
Hainan native animals exhibition - "BR> There are Wuzhishan white buffalo, wild boar, Hainan, mice pigs, Hainan Eld';s deer, monitor lizards, snakes and other south, In addition, East goats, Chicken, ducks and other poultry aggradational and livestock.

Admission Tips
1, the park is not allowed to carry flags and drums, and fear of disturbed animals.;
2, may not bring their own food or other debris feed the animals, to prevent the endangered animal health. Selling point of the park with animal feed, and fed according to the designated area.
3, in the park tour and watch animal shows, the object is not allowed to vote, playing teasing, and intimidation of animals.
4, with children, tourists, to take care of children. Do not water, steep slopes and across the isolation barrier and railings and other dangerous areasPlay and photography.
5, emergency complaints Tel :0898 -65569366 area Tel: 68526666
Hainan Tropical Wildlife Park, also known as Dongshan Wildlife Park, is the first large tropical wildlife park, an island is the only tropical rain forest plants and animals based Grand View Garden. Hainan, known as the "biological gene bank" and "condensed cream of native flora and fauna of Hainan Island natural museum."
Central service area with goats and East Produced in the Garden game meal.
Attachment: Team dinner menu (15 yuan per person, according to 10 settlement, excluding drinks. Price is for reference only)
A section: three-wire cold, dry stir-Dongshan mutton, hot kidney, stewed chicken, green onion omelette, fried beans, fried vegetables, braised whole fish, tomato egg soup.
B section: seaweed salad, stir dry Dongshan lamb, pickled pig stomach, South duck breast, cucumber meat, spicy tofu, braised eggplant, fried vegetables, seaweed and egg soup.
"> Transportation
Shuttle
1, the park opened a shuttle bus for visitors every day intervals.
Car Location: City of Pearl Plaza million Fulong supermarket door. Running time: 10:00 am departure, return at 14:30 the urban area, 68 per round-trip fare.
2, can take the Red Lake Station Dongshan, China and Pakistan to go.
3, Tainan door to the Higashiyama Zoo';s bus after the last train departure no later than 6:00 from Higashiyama, pass the zoo entrance, direct access to the sea terminal station Qiongshan Pakistan.
<p> Self-driving
Yuzhong line to go to reach the sea.
Tickets
Tickets

Block 95 yuan. Seven-year-old or older are exempt tickets purchased 1.2 m -1.4 m children half fare. Free for children under 1.2 meters, but a person can only take a child, above the limit are required to purchase tickets.
& Nbsp;
opening hours
8:00-17:30 (due to seasonal changes and other reasons may be, if the change in the date box office Zeyi announcement).