Attration Category
Guiyang Weather


39F ~ 45F
Light Rain
NE at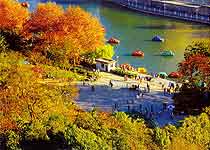 Riverside Park is located southwest of downtown area of Guiyang, Yishanbangshui elegant environment, small and unique look. Flower bed, fish pond, art galleries, dance halls, recreation rooms patchwork, tower pavilions and recreational facilities set off in green leaves. Park has Nan Garden, Bamboo House, bamboo Gallery, bamboo pavilion, bamboo fence, a quiet of the bamboo world, rustic charm of village school of thick.
Here is the visitors tea chess, enjoying a good place for rest,Many leisure visitors to the antiphonal singing, Liuniao, constitute the park';s unique style. Park in the playground is the world';s children are happy.
Their entertainment throughout the park can be divided into three parts, namely: children';s play area, popular science exhibition area and a quiet seating area.
Dining:
Anshun dog renowned Chinese and foreign. The "Huajianggourou" and "six horses dog", "Ziyun dog" points. "Huajianggourou", pay attention to "kill, burn, burn, Dayton, cut, eat," Eviscerate ceremonies and cooking food, long ChiChinese and foreign.
Accommodation:
the park itself has no place to stay, but because the park itself in the urban area, so visitors do not have to worry about lodging, hotel accommodation a lot of Guiyang, regardless of the price or the stars or grades from all choice.
Traffic
From the train station is the bus station to the riverside park the car lot: 1 Way, 2,17 Road to Riverside Park.
Plane bus ride from the airport to the train station or exhibition follows: 1 channel, 2, 17 Road to Riverside Park.
Tickets
Free entertainment in the park generally do not exceed the price of 10 yuan.