Attration Category
Guangzhou Weather


79F ~ 95F
Sunny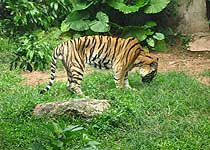 Guangzhou Zoo is one of the three largest zoos in China (the other two are Shanghai Wild Animal Zoo and Beijing Zoo). It is situated in the east part of Middle Xian Lie Road. With an area of over 42 hectares (about 100 acres) and large quantity of animal species, it receives about 4 million visitors from all over the world annually. After the previous over 50 years' development, Guangzhou Zoo now has become a diversified place for animal exhibition, science education and entertainment.
Guangzhou Zoo has around 400 species with a population of over 5,000 animals. According to different categories, animals in the zoo are displayed in differently: insects, amphibians and reptiles, birds, members of the cat family and Corythosaurus. There are endangered species like the South China tiger and rarely-seen overseas animals like the Chimpanzee. Moreover, the zoo has now successfully reproduced over one hundred species, and has become the leader of zoos in China for breeding animals like chimpanzees, Asian elephants and giraffes.
According to the layout of zoological classification, the animals inside are exhibited in three tourist districts: Central Exhibition District, Bird Paradise and Garden of Reptiles and Amphibians. Mammals are major members in Central Exhibition District, including lions, tigers, monkeys, hippos, pandas, dogs, elephants, giraffes, rhinos, zebras, deer, and so on. Bird Paradise now has over one hundred kinds of fowls and birds. The Reptiles and Amphibians Garden exhibits amphibians, reptiles, fish, and so on.
Guangzhou Zoo has rich types of scenery. In addition, there are some new attractions, such as the Goldfish Garden, Animal Performance, Dinosaur World, Lake Scenery, and Butterfly World. The Goldfish Garden exhibits nearly 100 species in total of 10,000 famed and precious fishes. Animal Performance has performers like lions, tigers, monkeys, dogs and horses, and their acrobatics must be the favorites of children. Using modern technology, Dinosaur World will give visitors a vivid world of dinosaurs. Lake Scenery includes three lakes all together with many swimming birds, springs, small islands and pavilions. In the Butterfly World, visitors will view graceful sights of butterflies.
Furthermore, the Sunflower Garden, Chimelong Paradise, Guangzhou Ocean World, Happy Paradise and River Horse Water World are near the zoo.
Transportation:

By Subway
Take Subway Line 5 and get off at Zoo Station. Get out from Exit B to the south gate of Guangzhou Zoo.

By Bus
1. Take bus no.6, 11, 16, 60, 65, 78, 85, 112, 192, 199, 201, 219, 236, 271, 290, 535, 547, 862, 883, or 84, and get off at the Zoo Station.
2. Take bus no.72, 74, 127, 220, 246, or 833, and get off at Zoo Bus Terminus.
3. Take bus no. 133, 191, 209, 210, 221, 233, 234, 242, 245, 256, 269, 278, 280, 886, 289, 301, 822, 545, 549, 550, 551, 561, or 810, and get off at the Zoo South Gate Station.
4. Take bus no.137, 221, 247, or 287, and get off at the Zoo South Gate Bus Terminus.