Attration Category
Guangzhou Weather


77F ~ 95F
Cloudy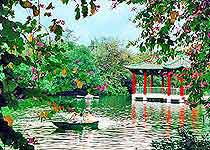 Beautiful green Yuexiu Moutain and flowing Pearl River, have given birth to the heart of Guangzhou - Yuexiu District.
Yuexiu District is the oldest center of Guangzhou City, named for the Yuexiu Mountain in the area. For a long history, Yuexiu District is the center of politics, economy, culture, trade, tourism, finance, communication of Guangzhou, and the important windows of transport hub and diplomatic relations of Guangzhou. Yuexiu district has a total area of 33.8 square kilometers, a resident population of 1162489; and governing 22 subdistrct offices and 264 community resident committees.
Yuexiu District has a long history and ancient cultural resources. Since the founding of Guangzhou City, it has experienced over 2200 years, but the center of the city has not changed, remains in the area of Yuexiu District. Such urban modes only exist in three cities: Rome, Alexandria and Guangzhou. The ancient history and culture, allow culture and heritages to be found everywhere in Yuexiu District, tourist resources deeply-accumulated, and rich and varied contents. Within the district, there are 88 historical and cultural sites under government protection, among them, 15 historical and cultural relics under state protection, 17 under the provincial protection and 56 under the municipal protection. Brilliant historic culture, revolutionary culture, architectural culture, folk culture and religious culture, integrating the folk arts with South Guangdong characteristics, make Yuexiu District a Historic Museum for witness to the Guangzhou City Development, and the important symbol of state-level historical and cultural city and Lingnan ancient capital of Guangzhou City.
Yuexiu District has leading public services and superior living environments. In recent years, Yuexiu District makes efforts to raise the urban civilized environments suitable for human living and business establishment, and implement the improvement of the human living environment and upgrading the entrepreneurial environments, comprehensively strengthen municipal facilities construction and urban comprehensive rectification, and actively renovate the urban management model, further raise the level of city management. In recent years, it has been awarded as National Scientific and Technological Progress Advanced Region, Quality Services for Family Planning Advanced Region, Education Management Information Standard Application Model Region, Community-based Pension Services Model Region, National Community-based Rehabilitation of Disabilities Demonstration Region, Guangdong Province Education Advance Region, Guangdong Province Sports Advanced Region, Guangzhou Outstanding Units Contribution to Creation of National Civilized Cities, and so on.

Under the new situation of regional economy increasingly globalization and internationalization, Yuexiu district is actively practicing the concept of scientific development, based on the developing goal of "urban core, cultural and educational guide, headquarters base, millennium business capital and livable city", actively implementing the four major strategies of "Headquarters driven, cultural and educational guide, scientific and technological innovation, and harmonious development" to promote regional information, rules of law, market-oriented, internationalization, and making efforts to build Yuexiu District into a modern central region of developed economy, political civilization and cultural prosperity, beautiful environment, and social harmony!