Attration Category
Guangzhou Weather


79F ~ 95F
Sunny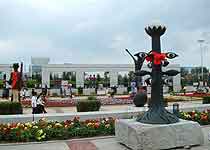 Covering an area of 460,000 square meters (0.46 hectare), Guangzhou Sculpture Park is the largest theme park in China. It is divided into four parts: Yangcheng (nickname of Guangzhou) History Sculpture Part, Forest Part, Chinese History Part, Sculpture Showplace.
This park is a combination of sculpture and garden art. All the sculptures are not standing alone; instead, they echo with other sculptures and the surrounding environment. What's more, the sculptures in Guangzhou Sculpture Park can not only show the beauty of sculpture art, but also educate the visitors through their rich content. So, on weekends, teachers or parents can bring children here to let the children know the history of China and Guangzhou through the vivid sculptures.

Location:
545 Xiatang West Rd., Fei'e Ling, Baiyun District, Guangzhou
Ticket Price:
free
Opening Time:
6: 30 a.m. - 9: 00 p.m.
How to get there:
You can take No. 76, 36, 810 and 810 A buses, and get off at Diaosu Gongyuan Station. The ticket fare is all 2 yuan per person. The front gate of Guangzhou Sculpture Park is right opposite the bus station.