Attration Category
Fuzhou Weather


59F ~ 73F
Light Rain To Cloudy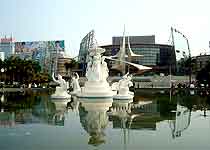 Wuyi Square is located in the southern of Yu Hill in the city center of Fuzhou City. It is covering an area of 4.5 hectare and green space of 31,373 square meters. In the norhtern of the square is the important place of municipal Parety committee and municipal government to receive foreign affairs; In the eastern, there are provincial scenice and technology museum, telecommunications hub building, Yuanhong Garen and other laege lconic buildings; In the southern, it is the provincial gymnasium which can accommodate 6,000 people; In the western, it is Fuzhou People's Hall.
Wuyi Square has becaome the political and cultural center and the important place for citizens to have a rest in Fuzhou. Every year, the flag-raising ceremony of New Year's Day and National Day will be held here.
The square is full of full-bodied political and cultural breath. There is a music fountain in the center, and in the water, there is group whith sculpture that are eight dancing girls of 5m high. That is meaning "Eight Fujian Daughters" live in Fujian happily.
Traffic:
Bus No.957, 937, 8, 908, 26