Attration Category
Fuzhou Weather


59F ~ 73F
Light Rain To Cloudy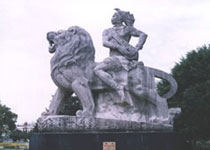 Zuohai Park sits at the northwest of Fuzhou city by West Lake Park. It has several gardens built around a theme of ''Sceneries of Five Continents'' the most popular of which are the Asian Gardens and the European Gardens. The Asian garden consists of re-creations of the Great Wall, a Japanese garden and a jetty where pleasure boats can be boarded for rides across the 18 hectare lake that sits at the centre of Zuohai Park.
A large red house in a typically English architectural style has been built in the European Garden, as has a re-creation of a Venetian Canal. Further oddities include a pirate ship, a haunted house, an adventure palace and a cable car, which takes visitors high up for unrivalled views of the park.
Other spots inside the 33 hectare garden include the Manila Lawn, where fragrant Osmanthus Trees grow alongside beautiful Nanyang firs, and the Zuohai aquarium and a variety of pagodas, small shops and entertainment facilities.
Celebrations are held here every year during the May Day Holiday, Spring Festival and the National holiday where shows of dancing, singing and traditional acrobatics are held.
Hours:
7:30-22:00
Price:
free
Getting there:
Take bus No.10 or 132 to Tongpan Road stop