Attration Category
Fuzhou Weather


55F ~ 68F
Overcast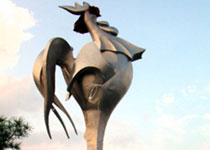 Jinjishan Park in Fuzhou Jinan District Jinjishan, the southeast corner. Jinjishan Hill is a branch of North Mountain Range. It looks like a huge and dark green jade that is lying in the eastern bank of Jin'an River. It is the famouse mountain in suburb of Fuzhou, and full of historical culture that precious cultural relic from Han Dynasty and Qing Dynasty ever came out.
In the old time, there were many places of interest in Jinjishan Hill, for example, Xiyun Hut of Ming Dynasty was on the top of the mountain; Jinji Temple and God of Earth Temple of Tang Dynasty were built on the foot of the mountain; And there were rivers, Lychee Forest and others nearby. It was beautiful. Especially the Jinjishan Hill was still keep natural and original style, that was rare scenic area full of mountains and plains style in Fuzhou.
Go into the park, you will see a group sculpture of large and golden roosters. The sculpture is 8m high and ninteen roosters are remarkably true to life and vived in different shaps, and they are standing on the rockery. They shows the theme and characteristic of the park admirably that they have became the mark of the park.
Traffic:Bus No.961, 702
Ticket:Free