Attration Category
Datong Weather


54F ~ 82F
Cloudy
E at 20km/h To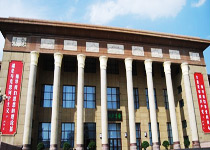 In Red Square, the Great West and Wei are Boulevard intersection.

The museum covers an area of 5600 square meters, of which 1,800 square meters exhibition area, has now become the second largest museum in Shanxi Province, 1.3 million pieces of cultural relics, a product 132. Most of the local archaeological finds. Meet the public more than pieces of precious relics in 1000, half of the initial display of rare collections.

MuseumEquipped with four exhibition halls are divided into "Pingcheng Time" "Sea Convergence", "City History," "Porcelain Road captures Jane", highlight the show as the Northern Wei in Datong gorgeous picture of Kyoto. There are exhibits Xujiayao wooly rhino, the Tang Dynasty Bronze Mirror Floral Linghua shape, Sima Jinlong tomb figurines unearthed guards of honor contingent group, Song Shaozu stone coffin, Persian silver coins, Xianbei accessories, such as the Northern Wei Dynasty celadon.
Among them, the display outside the south of Datong Wei building stone unearthed Yan Fang, a rare stone carving art. Stem gilt bronze cup from Persia (now Iran), the precious paper Sassanid dynastyMaterial. Wei Sima Jinlong tomb stone coffin bed, stone columns and wooden lacquer seat for the study of ancient Chinese calligraphy, painting, sculpture, painting and crafts provided valuable information.
Greatest treasures: the Yuan Dynasty Celadon Moon Palace Pillow video. Wulidian unearthed west of Datong, is the leader in Yuanqing white, hollow surrounded by a palace-style building, with four fairy tales, myths and legends positive for the Moon Palace, great heritage value for China';s domestic porcelain Jingdezhen kilns in the rare artsSurgery treasures.
Tickets
Tickets: Free is not free of charge to visit, with valid documents to queue up the museum, place vote, only one vote per person, valid on the day. Government agencies and organizations, enterprises, military units, schools collectively organized visits, an appointment two days in advance, try to avoid the peak period to visit.

Opening hours: Museum of only 800 per dayVisitors. 400 people on the afternoon. Open 9 am to 5 pm, 4 pm to stop admission. Monday closed. Closed only two days off during the Spring Festival (New Year';s Eve and New Year';s Day).