Attration Category
Dalian Weather


16F ~ 32F
Cloudy
NW at 40km/h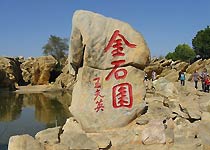 Address: Jinshi Road, Dalian, Liaoning, China, CN
Jinshi Yuan Park offers a rather unusual landscape for a city park, being full of enormous rocks. Over the years, these rocks have been sculpted into strange and appealing shapes by the elements and are worth a visit, providing endless photo opportunities. Many of the rocks stand at more than 20 metres / 65 feet, creating a dramatic appearance.
Forest of monolithic rock formations reaching 20 metres in some places has been protected as Jinshi Yuan Park. Sculpted from limestone by the forces of nature, the rocks take on some truly astounding shapes. It's a great place to wander around and ponder the surreal formations created some 600 million years ago. Also nearby is the Stone Collection Hall, a museum featuring some of the coolest rocks imaginable. The highlights here include the Muyu stone, which makes the sound of water when shaken, the five colour stone, which surely must have been painted, and the Ling Bi stone, which is capable of creating five different musical notes.
Jinshi Yuan Park and the Dalian Stone Collection Hall are the kind of geological awe areas that make visitors openly mutter "stupendous" and "astounding" in the same sentence. China's largest public square, Xinghai Square is the central location for Dalian's major events, including Fashion Week and the International Beer Festival and well as the fireworks display at Spring Festival.