Attration Category
Dali Weather


57F ~ 75F
Cloudy To Light Rain
W at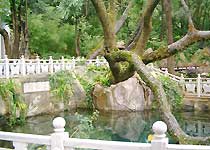 Butterfly Spring Lane in Cangshan peak of the cloud, 25 km from the city, 40 km from Shimonoseki, 25 km north from the ancient city of Dali. In the hearts of the Bai people, Butterfly Spring is a symbol of love, loyalty springs, each of the butterfly, Bai young men and women from all sides have come here, "try throwing a rock depth", with songs find their loved one.
In Guo';s song "Butterfly Spring," poem, the narrative here, a long-term spread legend, the story is another interpretation of Butterfly Lovers sad tragic love story. According to legend, orphan girl hunter Xia Wen Gu and Lang both love, fall in love, but whenTo the bullies girl eyeing Wen Kou, Lang Xia took the opportunity to persecution, they want to break up, love the people do not want this separation, and finally both were forced to jump into the Butterfly Spring, turned into a pair of butterfly, year after year, tirelessly in the spring on the fly with, sing with Wen-Xia Gu and Lang steadfast love.
Butterfly will be held April 15 at the annual Lunar New Year, when hundreds of thousands of butterflies flying from all directions, in the fountain filled the air, trailing Xiangxian, spectacular.
Traffic
From Dali OldPo-ai Road west of the city block by the door or along the CMB, about 40 minutes, fare 4 yuan. Or from the direction of Shimonoseki, the shuttle bus bound for Erhai, about 50 minutes.
Tickets
60