Attration Category
Chongqing Weather


73F ~ 86F
Cloudy
NE at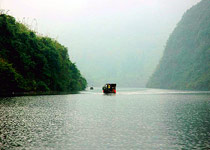 Wujiang originated in Weining County, Guizhou Province, flows through Youyang, Pengshui counties, to import the Yangtze River in Fuling District, length of 1036 km. Wujiang River flows through the village to gongtan Youyang trees between the river town, with lychee Gap, Gap and soil Da Baiji sub Gap length of 60 km, known as "Barry Wujiang River Gorge Gallery" is in Chongqing " 4 +1 "What one of the art in order to" Church Hill, rocks, clear water, town, bridges, suspended funeral, "the said Wengruo Mei Qing Dynasty poets praise: Xiu Landscape Church, should be pushing this first.
With the completion of the Wujiang Hydropower Station, then the long and narrow piece of the Three Gorges has been replaced by the male broad Dailv the river, the wild rush emergency line of the character of millions of years of Wujiang River, greatly slowing its pace, to become so calm and gentle, the first lights up the Castle Peak reflection, we gently glide reflection from the surface, was previously used to have people look over the Wujiang high altitude, is the pure white clouds and sorrow, this direct-boat on the Pitt Xiao's wonders, this thinner Na Yun's spectacular landscape and the people should be a case of years of it, to say farewell has bid farewell to life, have new life! Wu River Gaoxiapinghu many strange and beautiful landscape created, constitute unique charm of the landscape scenery, the famous landscape: the Wujiang River Goddess Peak, King Valley, Finger Peak.
Barry Gallery Wujiang today no chant, no whitewater rapids, not a force play it in a smooth and quiet, makes it especially tender. However, we from above her, still without losing the beautiful and magnificent. That floating in the Wujiang River towering mountains on both sides of clouds, just like a bias affordable three-dimensional picture of the contemporary Chinese landscape still further into people's dreams!