Attration Category
Chongqing Weather


73F ~ 86F
Cloudy
NE at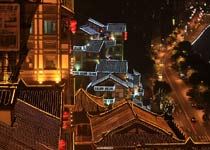 Located at the junction of Yangtze River and Jialing River, Chongqing Hongya Cave is a cultural center for city's landscape, business leisure, and humanism. With the famous traditional architectural feature of Stilted Buildings, Hongya Cave was built along mountains and above river in Jiefangbei which is the business center of Chongqing.
Walking in Hongya Cave, visitors will absolutely enjoy themselves. Old streets, delicious foods, exquisite commodities, traditional Bayu culture and various entertainment centers make Hongya Cave to be the reception hall of Jiefangbei. Hongya Cave will be the brightest city card to reappear old Chongqing. Hongya Cave has four main streets: Foreign Brand Street on 1F and 2F, Tianchengxiang Bayu Street on 3F, Hongya Cave Food Street on 4F and City Terrace Street on 11F. Those streets contain all the current modern elements, which not only lead the new entertainment lifestyle, but also drive the new direction of Chongqing's night life. Tianchengxiang Bayu Street demonstrates a different fashion trend to people. Ancient residence of grey brick, stone stile, and folk craftwork make you have a feeling of stepping back in time. Hongya Cave Food Street on 4F is another feast for people. There are many kinds of delicacies from different countries and times.
As the biggest traffic station in Chongqing, City Terrace attracts people's attention since it was built completely. It can accommodate about 30 to 40 cars at one time. Visitors can take escalators to Jiafangbei or any floor of Hongya Cave as well. The second-stage construction of Hongya Cave is the extention, completion and sublimation of the first-stage construction which occupies 29,905 square meters. The mountain city footpath and tridimensional business street will reappear old Chingqing's big flight and old city gate. The old-timey tridimensional business street unites the upper and lower cities with city edge water, cutting Yuzhong peninsula tridimensional sight, presenting a casual dispersed ribbon space, shuttling several old city gates. The contoured 208 meters long Moya Carved Stone will compile Bayu historic culture, folk custom, traditional religions and culture, jointly connecting shopping malls, facing river, taking a unique metropolitan Stone Precious Temple. From 63 floors on the ground to 8 floors underground, amounts to 71 floors, the first super high-rise,100,000 square meters in area, Innovation Building in Yuzhong peninsula will be the destination of World famous brand puring into Chongqing Superhigh building floor will be the best location to appreciate the beautiful night piece ,namely, two rivers and four shores.

Address: in the Bing river region of Jiefangbei Cangbai Road in the core of Chongqing city
Admission:Free