Attration Category
Changsha Weather


45F ~ 57F
Overcast
NW at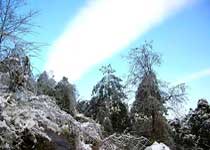 Yuelu Mountain Situated in the west bank of Xiangjiang River, the Yuelu Mountain with an altitude of more than 300 meters, has been famous for secluded environment and beautiful scenery since ancient time. Mount Yuelu Scenic Area consists of hills, pinnacles, rivers, lakes, wide variety of species of flora and fauna, cultural historic site, revolutionary monuments. Tourist spots o­n the mountain are Pavilion of Loving to Evening, Gorge of Refreshing Breeze, Python Cave and Yuelu Academy.
Yuelu Mountain is composed of natural scenery and personnel landscape. The natural scenery is strange, quiet, treasure and beautiful. In the landscape there are several thousand kinds of plants, among which there are a lot of famous and rare plants such as privet, ginkgo, camphor, spinulose tree, quassia, sweet gum, Chinese honey locustbladder catchfly. Besides, there are a lot of famous and rare birds and animals such as babbler, loriot, cuckoo, owl, woodpecker, parrot and fox, goat, pheasant. Yuelu Mountain is o­ne of Eight Attractions in Xiaoxiang.
Except for the beautiful natural sceneries, The mountain is dotted with inspiring cultural heritages including the Yuelu Academy, Lushan Temple, Yunlu Palace, Aiwan Pavilion, Baihe Spring, the Monument to King Yu and other minor historical traces.
The name Yuelu derived from a a famous line from the book" Story of Nanyue" written by Liu Song from the Southern and Northern Dynasties. It reads "eight hundred square meters around Nanyue, the head is Huiyan and the foot is Yuelu". The mountain was since ever called Mountain Yuelu.Yuelu Mountain has brilliant personnel landscape. For example, the poem written by Du Mu, "Stop the car and watch the maple leaves until late, the leaves covered by frost are more red than the flowers in February."

Ticket: 15 yuan, 12 yuan(adult group), 10 yuan (student group)
Opening Hour: 8:30 - 17:00
Traffic: You can go there by Bus 106, 202, 305 and Lishan Special Line.