Attration Category
Cangzhou Weather


14F ~ 37F
Overcast To Sunny
NE at 30km/h To 20km/h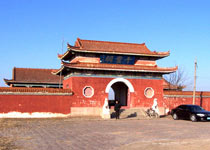 Yanshan County, Cangzhou City, located in the southeast town of thousands of children, 25 km south of Yanshan County Town.
Going to thousands of children have Cinei Hall, Mount Church, Friendship Hall, recorded the rate of the Boys & Girls Qin Xu Fuyong alchemist, artisans and craftsman Going success of the Japanese archipelago.
The town of thousands of children in the Shang, Zhou, Warring States period, known as "Rao Anyi," meaning "the land fertile, you can Anren." "Historical Records Zhao family," Qin Shi Huang in the mentioned six years (241 BC) of "Zhao will take Pang Qi Rao An attack" refers to here. Qin said here, "Thousand Children City", "Emperor sent thousands of men and women of child Xu seeking Penglai into the sea, home to the cityHis residence, hence the name. "Han emperor five years (202 BC) a county here that" thousands of children the county. "Northern Wei Xiping years (AD 517) of this rule before the state set Cangzhou. Thousands of children in the history of the town of the state government for up to 841 county years, as in 209 BC, the Qin Shi Huang Feng Xu Yong rate of the order of thousands of boys and girls, and hundreds of hands craftsman set sail from here, find the longevity of the drug, across the sea, east to the success of immigrants lived in Japan, create the friendly exchanges between China and Japan the first of its kind, to become first overseas Chinese history.
In the private sector have originated from the Han Dynasty, "thousands of Tongxin Zi Festival", that is, the Lunar March 28 Xu thousands of children out ofSea held a grand festival, held in Chia child, a cycle every 60 years. During the festival, held in various folk art performances, especially the selection of the body strong bold, delicate features of the Boys & Girls, dress costume, tied to the 15,6 meters high pole supporting the micro-stage performances, long-term perspective, to show Going to miss and call relatives. "Thousands Tong Xinzi Day" by experts and scholars known as the China-Japan friendly exchanges of the "living fossil." Since 1993, the Lunar New Year on March 28, thousands of children in the town by the Yanshan held "thousands of children Cultural Festival" every five years.