Attration Category
Cangzhou Weather


14F ~ 37F
Overcast To Sunny
NE at 30km/h To 20km/h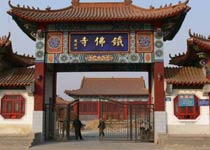 Famous monuments, in order to "State of the Cangzhou Lion King Tower, East County';s Iron Buddha" famous.
New Tie Fosi located in the center of tourist area, covers an area of 7334 square meters, including the gate, King Hall, Main Hall, East and West side hall, a group of simple and elegant Font magnificent ancient buildings.
Middle of the lintel of the gate is "Tie Fosi" Three words. King Hall and the Main Hall in gilt plaque, the last emperor of China from a brother, Aixinjueluo. Pujie hands. Tie Fosi total of 33 Buddha, Sakyamuni Buddha Inside the hall of which 8.24 m high and weighs48 tons, is the largest cast iron statue pedestal.
Knowledge:
According to "Eastern Light" record, Tiefo Si was originally called "Puzhao Si", was built in Northern Song Dynasty Kai Bao five years (AD 973) has been a thousand years of history. Body because of huge Buddha Temple is famous for, the Republic of China 25 years (AD 1936) Warlord Unite Wu had personally title plaque for the "Tie Fosi."
After the liberation, Tie Fosi was listed as cultural relics protection in Hebei Province. Tie Fosi experienced Cangsang. "Ten years of chaos" period (August 25, 1966), which symbolizes a long history of cultureOf the monuments, the destruction was unprecedented. Since reform and opening, in order to carry forward the Chinese nation';s fine cultural heritage, the county government submitted to the provincial government approved the rehabilitation Tiefo Si. On March 22, 1987 groundbreaking, invested 500 million yuan, in March 1989 will be a new Tie Fosi home repair.