Attration Category
Cangzhou Weather


14F ~ 37F
Overcast To Sunny
NE at 30km/h To 20km/h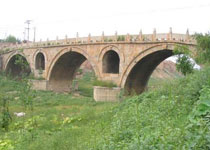 And Ming Dulin bridge. Cangxian Turin town center is located in Cangzhou, the old course of the three holes to open across the shoulders Hutuohe arched stone bridge.
Twenty-two years Ming Wanli (1594), consumption of two silver 20000. Two decades of the Qing dynasty, Hutuohe water big time, the size of the second punch hole trap Sipan. Guangxu (1907) Wang Yin Tong local people took six years to rebuild completed.
Piled by the stone bridge, arch shape for the three holes, the lower part of the pier units. Length of 66 meters, 7.8 meters wide. 9 meters high, 11.3 meters in diameter across each hole. Board above the bar there are several people looking columns and monkeys, lions and other relief, carving delicate,Image fidelity. The provincial key cultural relic protection units.