Attration Category
Baoding Weather


57F ~ 82F
Sunny
SW at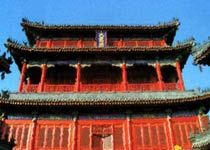 Located in the southern end of North Street, Baoding, Hebei Province, also known as Mercy House, is the ancient city';s tallest building. It was built years, according to "Baoding Prefecture" contains, Song Chun Right Decade (1250) of Mongolia, Hebei things Daiji Court Road are built by Marshal Zhang soft. Daiji now reign of Emperor Qianlong of Qing Dynasty Court is rebuilt several times after the building burned. May 25, 2006, Daci Court as the Qing Dynasty of ancient buildings, the State Council approved the inclusion of the sixth national cultural heritage list.
Daiji Court area of 1,600 square meters, construction area of 600 square meters, the existing principal buildings are gate, King Hall, the Clock Tower,Drum, Daci Court and temple. King Hall ride north to south, a pair of stone lions front door and lintels are embedded in "real Kark See Monastery" banners. Remains King of the hall rack beams have Jiaqing sixteen years (AD 1811) Long drawn ink lines the heart of cotton Fang dot painting traces of gold. Through the Heavenly King Hall, Bell Tower, Drum Tower quietly confrontation, on the second floor height, the same form, each 10.9 meters-high, the building in the form of eaves Xieshan; Shi cross ridges, two storeys. The north is 4.6 meters high towering stone base on the main building.
Daiji Court behind a temple built in the Ming Dynasty, formerly known as "Hanshou Ting Hou Temple", the existing templeFloor renovated 1985 building, main hall Miankuo three, deep into a large room for Xieshan construction, pre-Juan Peng. Its northward ride, so called back seat temple in the country is rare.
The main building - Daiji House, House was built in stone 5.4 m high on the platform. House is 22 steps before, Genei caisson, are painted Turning purlin Fang painting. Genei Eighteen murals on both sides, is still clearly visible, look different, is Genei art. Daiji Court-high 31 meters, magnificent, dozens of miles away can be seen, Xiren poem "Yan Chu House City to see the trees, they only Pik end of the Golden Pavilion" of the sentence, one of the eight out of Baoding, saying "City Club Peak. "
Traffic
1,4,12 Road train station in Baoding; urban 8,20,26,302 by commercial bus and get off at the bell tower, 200 meters north to Daiji Court. Beijing-Shenzhen Expressway, Baoding be self-driving under the Road North exit, go straight all the way west along the seven Abduction 2 km south of State Road 107 westbound to northbound 100 meters Yuhua Road, that is.
Tickets
Admission: 5 yuan / adult; 1 per / student. Tour takes about 1 hour.