Attration Category
Baoding Weather


25F ~ 57F
Sunny
N at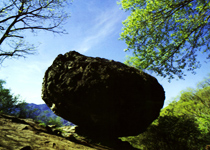 Baicaopan Yesanpo National Forest Park is one of six major scenic spots, known as the Taihang Mountains in the "Green Pearl" of the reputation of its peak elevation of 1983 meters, tall mountains bold, lush flowers and trees, chilly spring, waterfall hanging diarrhea, Air New cool, colorful seasons. Park, negative oxygen ions in the air as high as 551,923 per cubic centimeter, 126 times for the Beijing area, known as the "natural oxygen bar."

According to expert inspection, Forest Park Baicaopan 9 seed plants2 Section 713 kinds of ferns, 60 species of 15 families, 200 species of medicinal plants. Because of its vertical changes, the formation of four seasons a year, up and down on different days of the special climate, the mountains vertical distribution of vegetation types 4, 15 plant formations, wildlife and plant habitat accompanied by 184 vertebrate species, the national protected animals 15 species, known as the "natural plant tissue bank" and "Wild Animal Kingdom."

Pneumatic rock (see right): the left side of the ant Ridge, has a diameter of ten cliff edgeMeters, four meters high "wind stone", the shape of Yang put the bread, the local call it "bread stone." This stone has a strange, dangerous, strange and other characteristics, the coverage area of less than 1 / 20, in particular, only two base contacts at the fulcrum. If you climb to the top looking down, climbed into the abyss, Green Sea, daunting, combined with forest Taotao, people feel in constant shaking rock, at any time the risk of falling bottom of the cliff.

Stone Castle Ridge sunrise: Stone City Ridge is Baicaopan peak. Day will dawn, peak standing overlooking the magnificent sea of clouds for a lookBoundless; splendor of the red cloud steaming Xia Wei, Under these circumstances, very spectacular. View of the sunrise in north China, enjoying the sea of clouds in the resort.

Ant Ridge: Greenwood Baicaopan Among the many wonderful natural biological landscape, is particularly worth viewing even if the ant nest ant Ridge. Ants and more surprising here, but a big vicious, sense of smell, action very quickly. It poured out of the nest when the soil and roots to form a dome like a tomb, large and small, located in the hill slopes. What if someone poke their nest, these terrible little creatures willFlock, covered with dome, daunting.
Schematic diagram of scenic tours Baicaopan
Traffic
Self-driving routes:
1, the Beijing-Shijiazhuang High-Speed ----- ----- ----- Liulihe export shidu Hancunhe ----- ----- ----- Zhangfang Yesanpo - Town Factory ----- ---- ----- Baicaopan Lo Terrace
; 2, Shijiazhuang - Beijing-Shijiazhuang Expressway - Gaobeidian - Laishui - Zhangfang - shidu - Yesanpo - Bai Lixia
3, Tianjin - Tianjin high security - Beijing-Shijiazhuang Expressway (Beijing bound) - Gaobeidian - Laishui - Yesanpo - Bai Lixia
4, Taiyuan - the original level - Fanshi - Laiyuan - Yesanpo - Bai Lixia
5, tooOriginal - stone is too high - Shijiazhuang - Beijing-Shijiazhuang Expressway - Gaobeidian - Laishui - Yesanpo - Bai Lixia