Attration Category
Nanjing Weather


46F ~ 59F
Light Rain To Moderate Rain
NE at 30km/h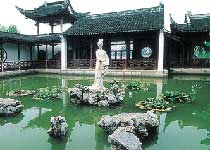 Located on the western side of Hanzhong Lu, Nanjing City, Mochou Lake occupies an area of 47 hectares (about 116 acres). Once a part of the Yangtze River, gradually became a lake as the course of the river wavered from the Yangtze River to the Qin Huai River.
The name of Mochou Lake originated from a beautiful woman called Mochou who had to bury her father. Her state of poverty resulted in her having to sell herself. Later, her husband's parents weren't pleased with her, so she committed suicide by jumping into the lake.
Since the early Ming Dynasty, Mochou Lake was gradually developed into a famous garden, which was bestowed to Xu Da by the first emperor of Ming Dynasty because he won his majesty while playing chess. During the following dynasty, this garden was extended several times and many other pavilions were added. In 1929, Mochou Lake was changed as a park. In 1953, Mochou Lake Park underwent major restorations, and the waterside pavilion and ready for ferry pavilion were built. The statue of Mochou got remodeled as well.