Attration Category
Hangzhou Weather


55F ~ 70F
Light Rain To Light Rain - Moderate Rain
N at 30km/h To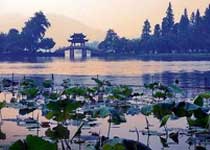 World-known for dainty landscape of lakes and mountains as well as a mass of places of historic interests, the West Lake of Hangzhou is considered A Paradise on Earth. It was included in the World Heritage List on June 24, 2011 as the only Chinese lake in that list.
Covering 6.39 square kilometers with a perimeter shore of around 15 kilometers, West Lake is a city lake just second to the Daming Lake in Jinan. The average water depth is 2.27 meters, of which the deepest is about 5 meters while the shallowest is less than 1 meter. The pretty of the West Lake not only lies in the lake itself but also in the surrounded bridges, pavilions and dozens of matched hills. Though the height of these hills are all not exceeding 400 meters, they are graceful on account of unique peaks, bizarre rocks and elegant springs, all together enhance the lake's appeal to compose a gorgeous picture with the West lake in the middle, resembling all the stars bend towards the moon.
Boasts over 100 units of cultural relics protected under the city, province or even the state, the West Lake is a renowned historic and cultural resort with its integrated natural beauty, historic relics, artistic values and numerous affecting fairy tales. The legend of the beautiful White Snake, and the praised verse given by the distinguished poet Su Shi (Known as Su Dongpo) of Song Dynasty (960-1279), who compared the West Lake to Xizi (one of the Four Great Beauties of ancient China), are both contributed to the romance of West Lake.
Origin of the West Lake
West Lake was firstly so called in Tang Dynasty (618-907), while various versions of legend about the origin of the West Lake are popular among people. The most common one goes that a Jade Dragon and a Gold Phoenix found a piece of white jade on the Immortal Island of the Silver River in the heaven. After their efforts for years, the jade was polished to be a bright pearl that the places its rays of light reached would always evergreen with trees and fragrant with colorful blossom flowers. However, the queen of heaven learnt the news and took the pearl away. During the scrambling, the bright jewel dropped out to the earth and reduced to a lake, soon afterwards, Jade Dragon and Gold Phoenix descended to the earth erecting as two mountains (the Jade Hill and Phoenix Hill) to guard their precious jewel, the West Lake.