Attration Category
Zhuhai Weather


79F ~ 88F
Showers To Moderate Rain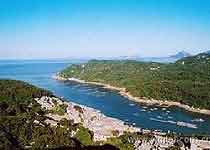 Dong'ao Island is 30 kilometers offshore, to the southeast of Zhuhai. Among Zhuhai's islands, Dong'ao Island is considered by some to be the most beautiful. The area occupied is 5 square kilometers. The climate is warm, the rainfall is abundant and the vegetation is luxuriant. The entire island completely retains the primitive natural ecological environment such as the south sand bay, the big bamboo bay and the small bamboo bay three sand beaches where the south sand bay is the best. The Chong city is equipped with the small stone beacon tower, assumes the shape of an awl body and the height is 1.7 meters. It rests against the mountain and is beside the sea. It is an important coast military defense to resist against external aggression for almost 200 years.

Travel Tips:
1, in order to fully enjoy the fun of the East Australian island travel, enjoy real island environment,Should choose the day tour or day tour as well. Select day, will be short because of time between flights to and makes much of a rush trip.
2, the islands climate is warm, humid, mosquito-more, it is portable to other deworming drugs to carry Fengyoujing; island of rugged mountain, challenging, and therefore carry bone-active oil and topical drugs or drugs; island seafood varieties, bad greedy mouth and stomach for the visitors, it can be got to prepare to take some stomach medicine.

Tips:
1, May -10 May each year is the island';s tourist season, every weekend, the rooms are relatively scarce, so the choice of tourists travel season, it is best to avoid the weekend and remember to book in advance Good hotel.
2, in low season (November - April the following year), the island has not changed location, and very quiet room at this time about half the price cheaper than the high season, and have other various benefits, but only the winter swimming enthusiasts it is appropriate to the sea swimming.

Traffic
Xiangzhou ride from Zhuhai Pier "Eastern One", "East II" and other luxury passenger ship only in 50 minutes to reach the East Australian island of, tickets 66 yuan. Traffic island 5 yuan / person.

Tickets
Admission: 10 yuan
Hours :6:00-19: 00