Attration Category
Shanghai Weather


43F ~ 50F
Overcast
NW at 20km/h To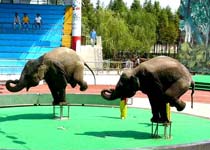 China';s largest national wildlife park covers an area of 153 hectares, 35 km from the city. Park brings together the world of representative species of rare animals on more than 200 million head (only), including from abroad, giraffe, zebra, antelope, rhinos, they are also a protected species in China: giant panda, golden monkey , South China tigers, Asian elephants and so on.
Visitors into the garden and into the car two hours visiting area. Stocking areas throughout the park is divided into herbivores, carnivores stocking area, Flamingo area, free-range animal areas, water birds and rare animals in captivity Lake District, Bainiao, butterfly garden and children';s petting zoo, and setPerformance characteristics of animals and many programs to show you the smart and talented animals, allowing you to experience the world of animals to bring you pleasure.
Animal Show Schedule:
Performance Name
Time
Content
Animals welcome
8:30-9:30
Monkey walking a tightrope, Qunhou juggling, wrestling a bear
Sea lion show
10:00,15:15
Drink the water jump, water ballet, inverted head the ball
Greyhound racing performance in Happy Valley
14:15
Running dog
Greyhound racing performance in Happy Valley
Large Square Performing Arts
Beasts Mountain Arena
Welcome beasts, peacock, Western Qingqi, the Silk Road Camel, heroic cheetah, lion dog Wife, elephants performed
Note: Animals welcome weekends only; temperatures above 35 degrees and the match was canceled Gree dogs, the other as usual. </ P>
South Africa Wildlife: October 6, 1998, after China and South Africa established diplomatic relations, the Shanghai Wild Animal Park welcomed a group of special guests - South African wildlife. 9 150 of these animals arrived in Shanghai, China, plane ride, including the 34 giraffe, there are other white rhino, eland, white oryx, springbok, blue wildebeest, black wildebeest and lions in South Africa and so on.
Traffic
Sanzao Town, Pudong New Area, the address is 178 Highway Six. People';s Square by fields of expertiseLine (Chengdu North Road junction 7:30-10:30,30 Taku minutes) direct. Or take mass transit line 2 to Zhangjiang station, transfer Zhang Nan cable.
Self-driving routes:
(1) Urban - Nanpu Bridge - Longyang - Shanghai South Highway - Southern VI road.
(2) Urban - Nanpu Bridge - Longyang - Luo Shan Road - Outer Ring Road (A20 road) - Welcome Boulevard (A1 road) - South Sixth Highway.
Zoo tour bus running time of 8:30 am-16: 00. Can be owned vehicles, But be sure to confirm the good condition before enter. Visit the area speed limit of 10 km / h, no parking, open the windows, get off without permission. Such as the break down on, you can call 021-58036000-2062 (if no phone, Ming flute), the zoo sent a car traction.
Tel :021 -61180000.
Tickets
Tickets 120 ,0.8-1.2 m half price for children 60 and 0.8 meters free of charge. Active duty militaryPeople, disabled soldiers, retired cadres, free of charge, the Shanghai local evidence over the age of 70 to enjoy the discount for an offer disabled tickets.
Hours: March 1 -11 30 8:00-17:00 (ticket sales stop at 16:00), December 1 - February 28 next year 8:30-16:30 (ticket sales stop at 15:30 .)