Attration Category
Shanghai Weather


48F ~ 66F
Sunny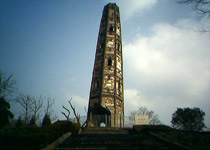 Located at a high altitude, the most frequently spotted species here are the mountain forest birds, including Tit and Dollarbird. Usually, visitors can find more than 20 kinds of birds per day. The mountianous ares is also home to many temples and pagodas, making a trip here a feeling of peace.
Among the temples in the Tianma Mountain, the largest is "Round Wisdom Temple". There is a leaning tower called "Conservation Pearl Baoguang Tower" for thousand years in the level behide the temple. It is built by Wen Xu from Hengshan in 1079, and it had 915 years of history. The tower is more than 20m high and sever floors and eight surfaces. Although the body of the tower is smaal, it stands erect in the mountains, shows tall and graceful. In 1157, Gaoszong put the Buddha's Relics of five colors into the tower, so it was often appear flammule.
In Qing Dynasty, a fire was happened, the tower wood heart, staircase, floorslab and so on were burned up; the tower stair, waist eaves, flat seat and so on were damaged, and just remain brick towers. After that, someone found that there are coin in the brick joints, so they took down the brick to discover treasure continually. Because of this situation, the northwestern of the toerbottom was took down gradually, and formed a big hole that diameter was about 2m. With foundations variations, the tower was tilted towards southwestern gradually. It was said that, in 1982, the tower had tilted of 62°51' 52" towards southwestern, the centre of the tower top was moved by 2.27m, so call it "leaning tower". The tower was tilted up to 6 degrees 53 points, raked over Italy Pisa, so known as "the first leaning tower".
Tianma Buddha's light is another wonders of Tianma Mountain that it usually with a pearl tower occur around, sometimes the early morning or at sunset, the sun through a belt moisture vapor clouds, in the tower of discus beautiful around reflects the aura.