Attration Category
Shanghai Weather


43F ~ 50F
Overcast
NW at 20km/h To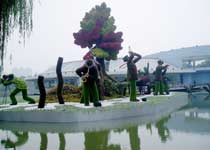 Century Park is rich in natural features of Shanghai';s largest ecological urban park, an area of 140.3 hectares, reflecting the East-West cultural integration, the integration of man and nature, with modern features of the Chinese garden style. Park, a large area of lawn, forest, lake as the main body has a central lake island, met with Square, local garden, international gardens, lawns, woodland area, and bird protection, scientific experience, science experiments, children';s amusement park and other facilities can be fishing, kite flying, picnic.
Shanghai Inner Ring Road Century Park is the largest central region rich in natural features of the eco-city park.
Transportation
Century Boulevard, Century Park is located in the terminal, north of Century Plaza and the Shanghai Science and Technology Museum. Address is the Pudong New Area Jinxiu (1001 Gate 1, Gate 2, No. 901, 701, Gate 3). Century Park is divided into north and south line of South Yanggao Road Metro Station and Century Park stations. Other Transportation:
One Door: 983,640,794, Yang Lo line, three line Yang, Yang Shen line, the Eastern Zhou Dynasty line, four-lane track;
Gate II: 794,640, Application for land line, the Eastern Zhou Dynasty line; Three Doors: Shen land line;
VII doors: the bridge-wire, 637, the World Mission line, 983, Fang Chuan Line.
Tickets
Tickets are 10 yuan, 9 per adult groups, student teams of 6 yuan.
Hours :7:00-18: 00 (March 16 -11 15) ,7:00-17: 00 (November 16 -3 15).