Attration Category
Shanghai Weather


43F ~ 50F
Overcast
NW at 20km/h To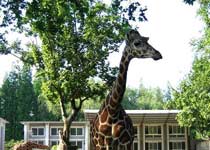 After half a century of development the Shanghai Zoo has become one of the best ecological gardens in Shanghai. The zoo houses and exhibits more than 6,000 animals, among which are 600 Chinese animals that include the giant panda, golden snub-nosed monkey, South China tiger, hoopoe, black bulbul, scimitar-horned oryx, great hornbills and Bactrian camels. Animals from other parts of the world include, the chimpanzee, giraffe, polar bear, kangaroo, gorilla, ring tailed lemur, common marmoset, spider monkey, african wild dog, olive baboon, mandrill, Canadian lynx and maned wolf. The zoo is constantly developing and improving the animal enclosures in order to provide better environments for the animals and a pleasurable experience for visitors.

The original golf course design has been basically preserved. There are a total of 100,000 trees with nearly 600 species planted in the zoo. The green areas or lawns cover and area of 100,000 square meters. The zoo endeavors to create an ecologically friendly environment for the animals - the 'Swan Lake' with its natural reed clumps and trees providing shade for pelicans, geese, black swans, night herons and other birds, is a perfect example of this.

The Shanghai Zoo provides areas for amusement and leisure, opportunities for visitors to increase their knowledge of the various animals and combines this with scientific and technical research to help people better understand and protect animals. Since the zoo was established it has been host to over 150,000,000 visitors.

The aim of the Shanghai Zoo is to have visitors leave with a better understanding of and appreciation for the animals and their environment.