Attration Category
Shanghai Weather


43F ~ 50F
Overcast
NW at 20km/h To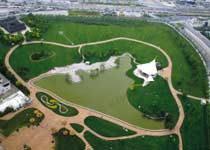 Lujiazui Central Green is located in Pudong district in Shanghai. The Greens are situated at the entrance of a Tunnel where you could come across a group of huge steel structures named 'Spring" which resembles eight flowers in full bloom. This is the largest space which has been opened up by the Shanghai Government. Some of the evergreen grass has been imported.

Lujiazui Central Green covers an area of approximately 100,000 sq metres out of which 65,000 sq meters are covered of an evergreen turf. The shape pathway resembles the city flower of Shanghai, Magnolia. The center of the Lujiazui Central Green features a man made lake which covers an area of 8600 square meters. The lake resembles a map of the Pudong new area. There is a fountain in the centre of the lake that can spray water columns as high as 80 meters. There is a white scenic canopy on the banks of the lake which resembles both a conch and a shell.

The green land is surrounded by clusters of high buildings which are like a new International Architecture Expo. Towards the south of the Lujiazui Central Green is the Lujiazui development Exhibition Room which showcases special architectures and combines Chinese and Western culture. It also reveals the past present and future of Lujiazui. The park is open from 6AM till 10PM.