Attration Category
Guangzhou Weather


79F ~ 95F
Cloudy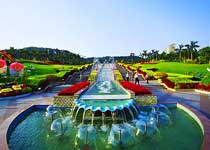 Yuntai Garden is situated at the entrance of the picturesque Baiyun Mountain, with a total area of 120,000 sq. Being the largest garden of its kind in China. Yuntai Garden neighbors Kwong Yuen Road to the south, connects to the aerial tramway to the east.
It has its back on the Yuntai Ridge of the Baiyun Mountain, well known for its luxurious Chinese as well as Foreign Four Seasons flowers. It was completed and opened up in September 1995, then became one of the latest new attractions of Baiyun Moutain Scenic Zone.
Yuntai Garden has its unique art design for integrating the Eastern-and-Western architectural art in harmony with the ancient and modern culture. Yuntai Garden is heralded as "the Pearl of the Flower City of Guangzhou". The structure and layout of the garden is unique and special, with the Colorful River, the Roman Column, and the Earth Stone Carving, as well as over 200 kinds of rare Chinese and foreign flowers there. Yuntai Garden is indeed a modern place of interest with beautiful scenery. You can visit the Garden any time of the year.
traffic :
Bus 175, 179, 199, 218, 223 road can be reached. tickets
Tickets: 10 yuan on weekdays, holiday 15 yuan; YuanZhongYuan specific charges: yuntai park 10 yuan, the star ridge 5 yuan, guangzhou Forest of Steles 5 yuan, peach blossom jian 3 yuan. Child half price.
Open time: 8:10 - 19:00