Attration Category
Shenzhen Weather


79F ~ 91F
Cloudy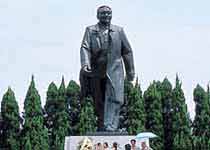 The lianhua north central located in shenzhen, because like lotus mountain named, is the central zone of the largest public green space, where the winding path leading to a secluded spot, lush. Lotus flower is the most important shenzhen municipal park, is one of artificial lake, kite square, dredging, YeFeng Linda grass grass and a leisure, the landscape is rich, natural landscape, overlooking central area on the top of the mountain the whole picture.
Lotus is not steep mountains, is only 532 meters. Along the border in the wan ting mountain trail walk slowly, visitors can not only enjoy the fun of climbing, and not of the fatigue. Standing in with marble laid the top of a platform, against the granite railing, looking down at the nearby new central, have the feeling of human heaven, looking at the rows of modern city buildings, the more there will be "will see the mountains, bullying extremely small" xing.
The days of high air is clear, the lotus flower in the park and the vast lawn become kite flying the ideal place, along with the kite turned up, visitors can not only to renew the childhood fun, more can let the mood like a kite, happy, free to dancing. The south is guanshanyue art gallery at the foot of the hill, the general secretary jiang zemin Guan Ming with the words. Here often hold all kinds of high levels of fine arts exhibition, give visitors the opportunity to provide art appreciation.
traffic
Lotus mountain is located in shenzhen center, the traffic is very convenient, each direction has arrived at the bus:
Starting from the luohu port, and the railway station, NO.25, a way to "lotus park station" 300 m