Attration Category
Shenzhen Weather


63F ~ 77F
Cloudy To Sunny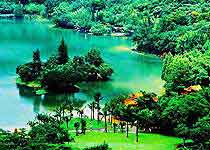 Shenzhen Fairy Lake Botanical Garden is located in northeast suburb of Shenzhen City, Shenzhen, the first peak of the Indus East Forest Hill, west of the Shenzhen Reservoir. Founded in 1983, formally opened in 1988. Is a research, science, tourism as one of the famous botanical gardens and scenic areas. Save a total of more than 6200 kinds of plants botanical garden, has a Cycad Preservation Center, Magnolia Park, rare Arboretum, palm garden, bamboo, shade plants in the desert flora, a hundred orchards, aquatic park, Blossom, gymnosperms area, bonsai Park more than a dozen plant garden.
  the whole park area is divided into heaven and earth, lake, temple area, the desert flora, fossil pine forest area and the scenicand other six scenic azaleas. Journey Into Amazing Caves built, the two should Pavilion, Jade Belt Bridge, Long statue towers, Kikunami Court, pay homage to a dozen kiosks and other scenic spots, and has a unique paleontological museum. Beautiful natural scenery, unique landscape architecture, the mysterious plant kingdom, is full of praise.
Palm District, green grass, coconut palmsDuring distribution, has witnessed a strong tropical; shade area plants, carnivorous plants opportunistic predator; Dancing ladies stepping on the bright and beautiful flowers hearted dance; fossil forest, Agate Fossil proudly, million years can not erase years circle tree rings, as if to tell people the profound changes in Earth';s history; desert greenhouse, desert plants flourish; the morning, preaching temple bell echoes, chanting songs Xu disease has caused, it is solemn; sunset , the lake shimmering trough full of water, the reflection of trees in which pavilions, picturesque, are truly blow people away!
Tips: 1, Fairy Lake in preaching the whole temple is said to be the most efficacious temple in Shenzhen, monthly lunar first day, fifteen many tourists, the way to the Fairy Lake when the fire might burn incense.
2, into the Temple, preaching is not money, to protect the environment, and the temple door away for free to the visitors into the temple incense, joss sticks to bring their own can not be brought into the temple, so do not buy the foot of the mountain.
Transportation
Bus:
From the Lo Wu Control Point, Railway Station: Take the 220 road to the "Fairy Lake Botanical Garden", walk 500 meters.
& Nbsp; from Shenzhen Airport: Take the <Airport 6 line (306) (fare: 30 yuan), to reach 218 Silver Lake Road interchange bus station, walk 500 meters.
Other via bus: 27 57 65 111 113 K113 218 220 311 333 336 382 style
Tickets:
Block 20 yuan / person adults and children over 1.4 meters tall block
Half-price ticket 10 / 1.1-1.4 m tall children (measured by the results to identify the bar date) , 60-69 for the elderly (ID card)
Free admission for children under 1.1 meters (whichever measure results to identify stroke), over 70 years old (or old ID card discount card), disabled (by disability certificate)
6:00-23:00 open.