Attration Category
Zhangjiajie Weather


75F ~ 93F
Cloudy
W at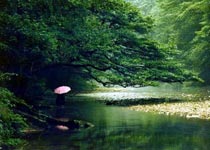 Golden Whip Stream, Sok River, Yuanyang Xi, Shan Creek four streams in this less than 200 square meters in the valley basin coiled convergence. Four Zhou Fengyan Qixiu, gurgling streams, Qifeng stone walls an oasis of fragrant grass, a few mountain streams cutting out the gate , called "Shuiraosimen".
Place in them, the whole "water stream in the mountains, people like water mid-stream", can be said the world must view. Long live the brand here, General Rock, Beacon Hill and other King, has excellent viewing pleasure.
Located in the the Wulingyuan center, the west gate of the Zhangjiajie National Forest Park Scenic Area.

Tickets
Power Tour Tickets: 19 yuan.
Bai Long Elevator: One-way 56 per / person.