Attration Category
Xiamen Weather


57F ~ 66F
Cloudy
NE at 30km/h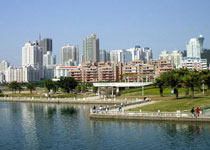 The area around Yundang Lake is famous with locals and tourists as well. It is nice to take a walk here and marvel at the scenery. There are quite a few spots around Yundang Lake, where you can sit down and relax as well. Benches around the lake invite to rest for a while and the parks offer calm to people passing by.
Right in the middle of Yundang Lake, there is an island on which you can find a park as well: Bailuzhou Park. Opposite to the other parks around this area, Bailuzhou Park does not only contain large lawns and children amusement facilities, but also bars, clubs, hotels and shopping areas. The western part of the park is the most common park-like part, that you will find here. Lawns invite to stroll or sit down, fountains enrich the scenery and if you are lucky you will have got the possibility to take a look at one of the public art events, happening here sometimes.
Across Bailuzhou Lu, the other part of the park begins. Right next to the water, luxurious hotels are situated in attract tourists and business people from all over the world. All over this part of Bailuzhou Park, various bungalows are spread. Most of them host bars or cafés. Although the outside of these places is pretty much the same all the time, you will find a broad variety of different bars here. If you are in the mood for some dancing and like typical Chinese-style discos, you will be satisfied here as well. The NASA is located at the eastern end of the park and pretty easy to find, due to its spacecraft-like style. Next to this club, there are several restaurants, shopping facilities and other places to spend some time and money.
Due to its combination of night-life entertainment, shopping area and common park, Bailuzhou Park is always worth a visit, either at day-time or at night.
How to get there: There are several buses driving to this island, you should either take bus 15, 26, 86, 87, 88, 506 and get off at Bailuzhou Gongyuan Station (at the eastern part of the park) or bus 8, 12, 20, 51, 85, 97, 522, 812 and get off at Bailuzhou Station (at the western part of the park).